To be a great designer, one must be a good story teller. With this in mind, AIGA Idaho decided to venture out and attend Story Story Late Night, a live story-telling event with a theme, featured speakers and several story "slammers" (volunteers from the audience whose name gets drawn to share their story). With the theme of Bigot we listened to stories of sexism, racism, ignorance and even murder. All these stories were true accounts given by their speakers; some accompanied by laughter and some by tears.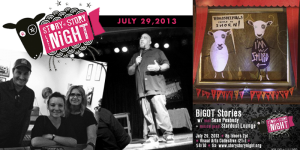 Sean Peabody, the feature speaker and host, retold his story of feeling racism for the first time when he and his wife went to a restaurant. After a long wait time to be seated and to have their order taken, Sean overheard two servers comment,  "why would she be with someone outside of her race?" Sean being Polynesian, was deeply offended and he and his family immediately left the restaurant. But, Sean still sees the great things in people and revealed his mom always taught him to "plan for people's ignorance."  Sean ended his story with, "I can fit in anywhere, with anyone, I love everybody for everybody, until you give me a reason not to."
This was just one of the many insightful and well-crafted stories we heard that night, reminding us that the best stories are the ones that allow us to relate and feel a connection. As designers, storytelling is what we do visually. We set a tone, we inspire, we invoke change and thinking through design. We do that with style, with color with shape and form. Storytelling is in essence, how we problem solve and create an experience for our audiences.
As we enter a new term at AIGA Idaho, keep an eye out for a more in-depth look at story telling with your AIGA board and check out Story Story Night here for schedules and upcoming shows.